Drawing Mars
STEP 1: The Canvas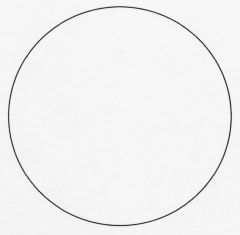 Planetary sketches begin with the outline of the planet. Since planets don't change shape--at least not during any one person's lifetime--I use templates for the big three: Mars, Jupiter and Saturn. My Mars template is about 3-inches (75-mm) in diameter, which gives enough space to sketch lots of fine detail while still fitting on an 8.5-inch x 11-inch sheet of paper.
STEP 2: Primary Features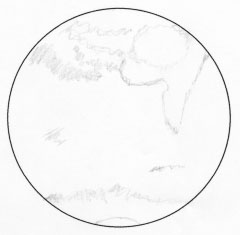 The first step is outlining the major visible features. Shaped a little like Africa when viewed through an inverting telescope, Syrtis Major is large and distinct. If visible, Syrtis Major usually dominates the view. Hellas is a large, oval impact basin south of Syrtis Major. It often appears bright white due to low lying clouds within the basin. The polar regions can also appear quite distinct. As the ices sublimate, bright white clouds form over the polar caps. The north polar cap is seen along the bottom edge of the Martian disk in this sketch.
STEP 3: Details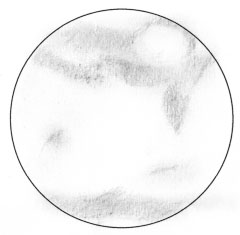 With the large features roughed in, it's time to start paying attention to the small details. Finger smudges smooth the appearance of the albedo features and blend them together. Subtle changes in contrast are created by rubbing to diffuse an area or adding more pencil lead to darken an area. By now, 20 or 30 minutes have passed and I'm starting to pick up small details and extremely subtle contrast features. Moments of steady seeing bring enhanced definition to the details already drawn. Sometimes, the wealth of detail can seem overwhelming. At such moments, it's best to focus on one feature at a time. Otherwise, everything gets lost in the jumble.
STEP 4: Finishing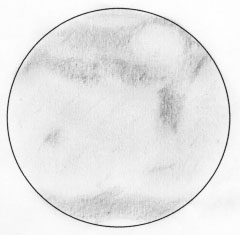 Mars often displays a combination peach/tan or flesh tone hue. When finishing a sketch of the red planet, I add a light pencil wash across the entire disk. This is rubbed in all over to produce the slightly dark cast seen in this finished sketch. Whether the polar regions are visible, limb haze is present or clouds have formed over the immense shield volcanoes, there are usually one or two features appearing bright white to the eye. I use an eraser to remove pencil lead and achieve the desired effect. The end result is a richly detailed sketch, which captures the almost Earth-like appearance that has drawn humans to ponder Mars for generations.


Home | About Cosmic Voyage | Getting Started | Deep-sky Observing | Planetary Observing | Astrophotography | Sketching | Glossary | Web Links

URL: http://www.cosmicvoyage.net
Layout, design & revisions &copy W. D. Ferris
Comments and Suggestions: wdferris1@gmail.com

Revised: June 15, 2003 [WDF]