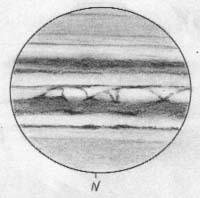 JUPITER STATS
Apparent diameter: 48"
Sys I CM: 306&deg
Sys II CM: 316&deg
Excellent seeing allowed me to make this observation at 388X with my 10-inch Starfinder. The North Equatorial Belt (NEB) features a fine webwork of festoons and columns. An interesting array is visible right along the central meridian (CM). Immediately preceding the CM, a cursive v-shaped pair--one arching southeast and the other angling southwest--reach across the Equatorial Zone (EZ) and connect to the Equatorial Belt (EB). Immediately following the CM, another pair originates in a less prominent blue swell. The preceding festoon dips south-southwest, connecting to a festoon. A column extends straight across the EZ creating a confluence with the EB and a second festoon.
Another v-shaped pair of festoons is visible along the NEB between the following limb and the CM. A combination festoon and column connect two dark blue swells along the NEB between the preceding limb and the CM. The NEB displays an overall honey brown coloration. The northern edge of the NEB features two sections with a darker, chocolate brown hue.
The light colored North Tropical Zone (NTrZ) separates the North Temperate Belt (NTB) from the NEB. he NTB is quite dark and features two knots that straddle the CM. The light gray North Polar Region extends to the North North Temperate Belt (NNTB) and has an even density. The North Temperate Zone (NTZ) separating the NTB and NNTB is half-toned between the white NTrZ and gray NPR.
The light gray tone of the South Polar Region (SPR) extends to the South Temperate Belt (STB). The South South Temperate Belt (SSTB) is visible within this gray region at a latitude of -40 degrees. Also visible, a subtle band at a latitude of -70 degrees. The South Equatorial Belt (SEB) is split in two sections by a light colored rift. This rift follows a path just inside the northern boundary of the SEB for most of its course. The SEB sections have a somewhat darker brown hue than the NEB.